One of the perks of double-jobbing with ChampionsEverywhere is that I can take a holiday in Portugal and call it "work". You know the type "I'm scouting locations". Leaving aside the excuse that Aoife and I would be heading for a one-week respite from the current biblical conditions in Ireland anyway, I will be scouting several locations for future training camps that we plan to host in 2014 and this is the first of such "missions".
Welcome Vilamoura
This time the trip goes to Vilamoura in Portugal, a well-known resort for golfers and others who like to relax at the Algarve although not as famous among runners as the hot weather training grounds at Monte Gordo.
A friend of ours (thanks Sinead!) secured us a good deal on accommodation and time time of year with 13-17 degrees and sunshine forecast, made the timing perfect for Aoife and my early season preparations. We are heading off this Tuesday for a 7-day stint with plenty of running planned.
Shedding the shock
These past 4 weeks, I have been undergoing a "shock protocol", Russian style, which I'll describe in this blog tomorrow (and talk about its evolutionary precedent and why not everyone should rush out and do their training in this manner straight away). My own experiment with the basic tenets of a "shock protocol" featured more than 100km per week on average and an hours running per day (or more) – all done in VivoBarefoot shoes or entirely barefoot (for a few of our "Technical Thursdays" at Charlesland track).
This past week I took a "step-back", taking my paces right down (involuntarily as often as not), while still completing another 100 km. The point of this: to absorb the quantity put through my body and freshen up for what I hope will be a perfect week's training in Portugal.
All in a week's work
This is how I have planned our week ahead:
Neutral readers will notice my luck – had I not been married to a runner sharing equal levels of fanaticism, such a holiday plan would probably be grounds for divorce! To ensure recovery, Aoife, for her part, has made our "restaurant plan".
You can see a few simple principles at work here:
Each day has a theme – on a recovery day only relaxing "cross-training" is done (such as flexibility work), one harder days a circuit is done. When we work, we work, when we rest, we rest
Short relaxing morning runs before breakfast set a nice tone for all days except the two days with long runs. These are particularly beneficial on the morning of a faster session
Travel days are easy days, no matter what day of the week they fall on
Otherwise this is a standard Lydiard-style conditioning week featuring a faster run (the speed session is merely a glorified fartlek), a fartlek (longer reps) and a steady run alongside two longer efforts and two recovery runs
"Go out" for us usually means 2 glasses of wine and in bed by midnight!"
Every circuit will be specially designed by me to suit the day's purposes and we hope to make use of the excellent facilities at Brown's Health Club where there is a 1-mile cross-country loop among other things.
What about having a holiday?
We'd go crazy if we didn't run anyway and tried a non-running holiday once and found it terrible. Anyway – as you can see from the plan above there is plenty of room in between sessions for just relaxing and we plan to spend plenty of time just reading, lying around or lounging in the pool!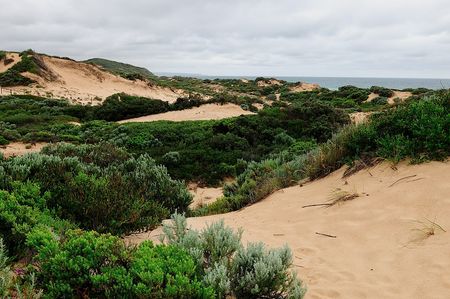 Cerutty's Portsea dunes – today…
I noticed when studying Cerutty's Portsea training camps that while the he and his chaps trained very hard (three times per day), during the weekend stay-over, they spend more time just resting – including a 2 hour sleep at Noon and a long social dinner with music in the evening before bed-time at 22:30. While we are not quite subjecting ourselves to Cerutty's more Spartan conditions, this time around, I'm confident we'll get the right balance between work and relaxation to return home feeling like we've been on a holiday. Looking back the worst holidays I've been on were those that featured no activity at all – during our La Santa trips we regularly trained 3-4 times per day, or raced, and came home feeling more energised. Most runners will nod at this idea I am sure – we're not the "lie on the beach" types.
Don't be afraid to change the plan
My original plan was to break my old highest mileage week (144 km) but the last few weeks suggest I am better off spending the week focused purely on upping the average pace of each run. Having done 9-10.5 hours per week so far this year, dropping down to roughly 8 hours of primary running will allow for this when combined with the better recovery that you benefit from on holidays.
Competing in La Santa 10k in 2011
Aoife and I don't have long until Ballycotton and I am not as race ready as I was back in 2012, so I am hoping Portugal will provide a nice push on the back of the 400 plus kilometres packed away in the last 28 days.
As for the scouting: don't worry I'll be working on your behalf at this location and a few others and hopefully we can put together a unique setup of "old school" training camps built on the ideas of Lydiard and Cerutty in this regard as well as the "Swedish model" of the 1940ies.
Tomorrow: Russian "shock periodisation" and "anatomical adaptation"